WTF?!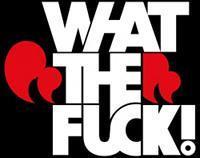 Sometimes life can be stranger than even some of our very own dick jokes. And in times like that all we can say is: "What the fuck?!" All these stories are true... they happened to real people. And we didn't even change the names. They deserve the recognition!
Don't Miss These Jokes!
Nacho comes before a judge. The judge asks: "Why're you here?" Nacho tells him: "I'm accused of starting my Xmas shopping early."
The judge says, "That's not a crime. How early did you start?"
Nacho says, "Before the store opened."
"Forgive me, Father, I was fucking my wife and fantasized she was a nun."
"My son, sometimes when I fuck a nun I fantasize it's your wife."
Teacher: "What do you know about the Resurrection?"
Johnny: "If it lasts more than 4 hrs call your doctor."
DJoke RSS Feed

Click to receive