WTF?!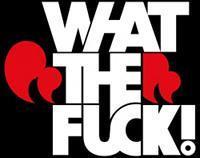 Sometimes life can be stranger than even some of our very own dick jokes. And in times like that all we can say is: "What the fuck?!" All these stories are true... they happened to real people. And we didn't even change the names. They deserve the recognition!
Don't Miss These Jokes!
Broke hooker to girlfriend while walking the streets together: "Lend me 10 bucks till I'm on my back again"
Two guys were in a bar. The first one said: "I can't break my wife of the habit of staying up until 5 in the morning."
"What is she doing?", his buddy asks.
"Waiting for me to get home."
Joe gets a ticket to the Super Bowl from his company, but when he gets there, the seat is in the last row way back in the corner of the stadium.
Halfway through the first quarter, Joe sees through his binoculars an empty seat ten rows off the field, right on the fifty-yard line. He decides to take a chance, and makes his way around the security guards to the empty seat.
As he sits down, Joe says to the guy sitting next to him, "Excuse me, is anybody sitting here?"
The guy says, "No."
Joe says, "This is incredible! Who in their right mind would have a seat like this for the Super Bowl and not use it?"
The guy says, "Well, actually, the seat belongs to me. I was supposed to come with my wife, but she passed away. This is the first Super Bowl we haven't seen together since we got married in 1967."
Joe says, "That's really sad. But couldn't you find anyone to take the seat? A friend, or a close relative?"
The guy says, "No, they're all at the funeral."