WTF?! A man booked into jail for public intoxication had a stolen gun hidden in a certain body cavity. Police noticed that the defendant was acting like an asshole and walking "strangely" upon arrival at the county jail. So they put two and two together and found the gun in cavity number 2,
Jesse Roberts, 23, was collared early today by cops responding to a 911 call about a prowler near a residence in Elkmont, Alabama a town outside Huntsville.
Seen above, Roberts was arrested and transported to the Limestone County jail, where corrections officers took notice of his odd gait. Is that a gun up your ass, or are you just not happy to be here?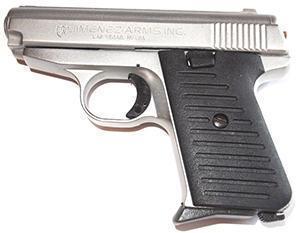 As Roberts was being searched, an unloaded Jimenez Arms .380-caliber pistol fell from his rear end into his underwear. "I immediately considered that he defecated on himself before noticing a familiar shape in the form of a pistol in his boxers," a jailer noted in a report[1], according to Sheriff Mike Blakely.
The defendant was heard to have said: "Oh crap!"
Upon recovering the unloaded weapon from Roberts's drawers, cops determined that the $100 handgun had been reported stolen out of Florence, a city 50 miles away.
Along with a misdemeanor public intoxication rap, Roberts is facing charges for receiving stolen property, introducing contraband into a correctional facility, and carrying a concealed weapon[2] without a permit. Roberts is locked up in lieu of $7250 bail....
Read more from our friends at The Smoking Gun http://thesmokinggun.com/buster/alabama/gun-drops-into-boxers-829043